In honor of the Christmas shopping season, here are some Portland-themed gifts for that special person on your list. In no particular order (except for the first two!):
Portland, Maine 2013 Calendar
by Corey Templeton. Just $24.99 for 12 months of your favorite city!
Check out the professionally printed photos and other products like canvas wraps, magnets, and more at
Corey Templeton Photography
. Photos make great gifts and you can get anything on the site for
20% off
between now and the end of the year by using code
Holidays2012
at checkout.
I recently stumbled upon this artwork by
Andy J. Hunter
that combines Portland, Maine with the animated television series Futurama, which
sells for just $6.60
for an 8" X 10.2" print: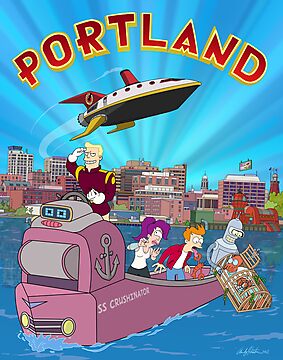 Check out the weather resistant, durable, and fashionable wallets, bags, and iPad sleeves designed and manufactured in Portland (on Peak's Island) by
Flowfold
. The company has been making their goods since 2010 from "high tech racing sailcloth," and their products seem to be catching on. I like the cut of their jib, and so should you. Also note that some Flowfold folk will be at the
Picnic Holiday Sale
at the Portland Company Complex today.
A Portland institution since 1994, Coffee by Design has a variety of coffee and other goods available in their stores and online. Nothing says "Portland, Maine" like a CBD bumper sticker or coffee mug.
Portland's own independent book store,
Longfellow Books
, is still alive and well and books always make a good gift.